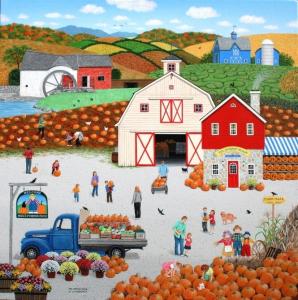 Wilfrido Limvalencia's Artworks titled___

"The Harvest Moon,"
"Steveston Landing,
"Dockside Bears," and
"Cat Lovers' Bazaar,"

___are posted on the column right outside BRIGHOUSE Station of Canada Line Subway at No.3 Road, Richmond, B.C.

___The paintings were commissioned by the City of Richmond Public Art Project.

___Each image is installed as mural-sized poster 6 ft. x 6 ft., and the exhibit will last until December 2011.

___These 4 images can now be purchased as canvas or paper prints on Wilfrido's page here in Fine Art America.